---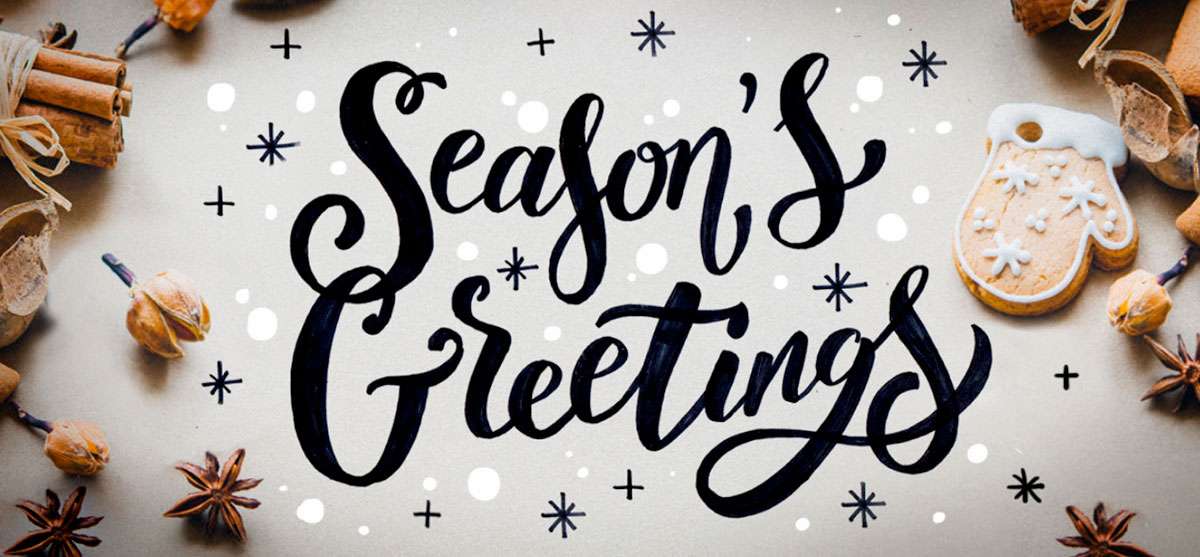 Dear Colleagues,
On behalf of the IPTA Council we would like say Season's Greetings. In warm appreciation of our Association during the past year, we extend our very best wishes for a happy holiday season!
Sincerely,
Anne I. Dipchand
IPTA President
---

Waiting for a liver
This case focuses on a 2-year-old girl with biliary atresia and failed Kasai. Over the past 6 months, she had become progressively worse, with mucosal and gastric bleeding episodically. She developed end stage liver disease and cirrhosis. Due to feeding intolerance with enteral feeds, a central venous line was placed and parenteral nutrition was started. She was listed for a liver transplant.
She was admitted to the hospital for electrolyte imbalances and fluid shifts. This hospitalization lasted for 5 months, due to GI bleeds, sepsis and general deterioration. She had issues with ascites, hypotension consistent with cirrhosis, spontaneous GI bleeds and 2 episodes of sepsis. (She had pruritus and constantly scratched at her central line dressing).
Mom stayed in the hospital with the patient and worried that her daughter would not make it to transplant.
She continued to demonstrate signs of decompensated cirrhosis: coagulopathy, ascites, and hypoalbuminemia/hyponatremia. She continued to have worsening labs, increased work of breathing and large amounts of bleeding from the central line site. She received multiple blood products to correct labs with no effect. She was oliguric secondary to hepatorenal syndrome and intravascular hypovolemia. She was increasingly agitated and distressed.
Her tenuous course worsened overnight. The parents spoke with the team and made the decision to change her resuscitation status to Do not resuscitate (DNR). Dad boarded a flight to the hospital, so that he could be at her side, when she passed away. A police escort to the hospital was arranged.
Thirty minutes after the DNR order was placed, the transplant surgeon received a call that a liver was available to the patient. The liver was a match for the patient. Since only 30 minutes had passed, the patient had remained listed for a liver.
Ethical questions: In the setting of "high risk" transplantation, it is very difficult to quantify risk factors. In this case, since the patient had been made DNR, she would die if the transplant did not occur. Would you tell the parents that an organ was available? Would you proceed to the OR?
Distributive justice: The patient did not survive the transplant. As we think about distributive justice, how to fairly divide resources, should the liver have gone to this patient? Without enough organs available for everyone who needs one, should the liver have gone to a patient who had a better chance of survival?
---

Application deadline: February 28th 2019
The IPTA is pleased to announce the renewal of its Outreach Program, established to support centers that seek to develop new solid organ transplant programs or to expand or enhance the quality of care in existing programs. The success of the Outreach Programs is enabled by enthusiastic participation of sponsoring programs, who will partner with applicant centers and can provide knowledge, expertise and education.
Transplant Program Standards Development: In order to better understand requirements for establishing and supporting successful transplant programs, the IPTA Outreach Committee has developed a set of simple standards that may be used to evaluate transplant program needs. These standards are meant to support the development of best practices in centers seeking support by the IPTA Outreach Program, but may also serve as a reference for programs seeking their own program development.
See the details regarding the Outreach Program guidelines and application process in the documents.
Click HERE for more details.
---

2018 Symposium in Organ Transplantation in Children in Review
The 2018 Bi-Annual International Pediatric Transplant Association Fellowship Symposium in Organ Transplantation in Children took place on November 12-13, 2018 at the Crowne Plaza Corobici San José, Costa Rica.
The special IPTA activity served as an educational forum for clinical and research fellows in pediatric solid organ transplantation, and other allied health professionals and trainees who are planning a career in pediatric transplantation. 80 participants joined from 20 different countries from Europe, Asia, Latin America, Africa and North America.
The intensive training course, led by council members of IPTA, awarded scholarships to international fellows to present their abstracts. 50 fellows submitted abstracts, and the education committee scored them blindly, 25 fellows were selected to participate.
For the first time ever, delegates were also invited to attend the symposium. They represented varying fields of pediatric transplantation including liver, lung, heart, psychology, psychiatry, adolescent medicine, and ethics among others. This diversity in content led to a very interactive experience and a high quality scientific program.
The scientific program was designed to deliver plenary lectures about broad aspects of transplantation, including immunology, vaccination, pre- transplant challenges and post- transplant complications of immunosuppression. There were interesting discussions that centered around case discussions on immunology issues, liver/intestine, heart/lung and kidney transplantation.
The presentations from the invited fellows were superb as they were well-prepared and led to engaging discussions. One such innovative and arousing session included a discussion on a potentially stunning way to increase donor supply "Organ donation after euthanasia in children and adolescents: Exploration of legal framework and medical suitability" by Jan Bollen and "Neonatal organ donation: A potential new donor source for cell and organ transplantation" by Emil Bluhme.
Faculty presentations were unique and insightful. Of particular note was the session of "Transplantation without Borders" whereby Mignon McCulloch's talk "Pediatric transplantation in the developing world" and by J.P. Garbanzo who gave a candid and thoughtful lecture on the "Evolution of Pediatric Transplantation in Costa Rica". Other lectures focused on advancing a career in pediatric transplantation with lectures that included writing grants and scientific articles for publication, as well as pursuing a well-balanced life in such a demanding field. The fellows were not afraid to engage with faculty and felt they built strong camaraderie with each other and the delegates. Trainees received feedback from the faculty, and enjoyed unique networking opportunities to discuss issues relevant to a career in pediatric solid organ transplantation.
The organization of the meeting was flawless both on the part of the IPTA organization team at The Transplantation Society, and the local IPTA organizers in Costa Rica. Dr. Olga Arguedas, CEO and Director of the Children's Hospital in Costa Rica gave opening remarks and also planned a tour of the Hospital Nacional de Niños for all the participants. The symposium ended with the Fellows Dinner for everyone on at La Cascada Restaurant enjoying a typical Costa Rican dinner!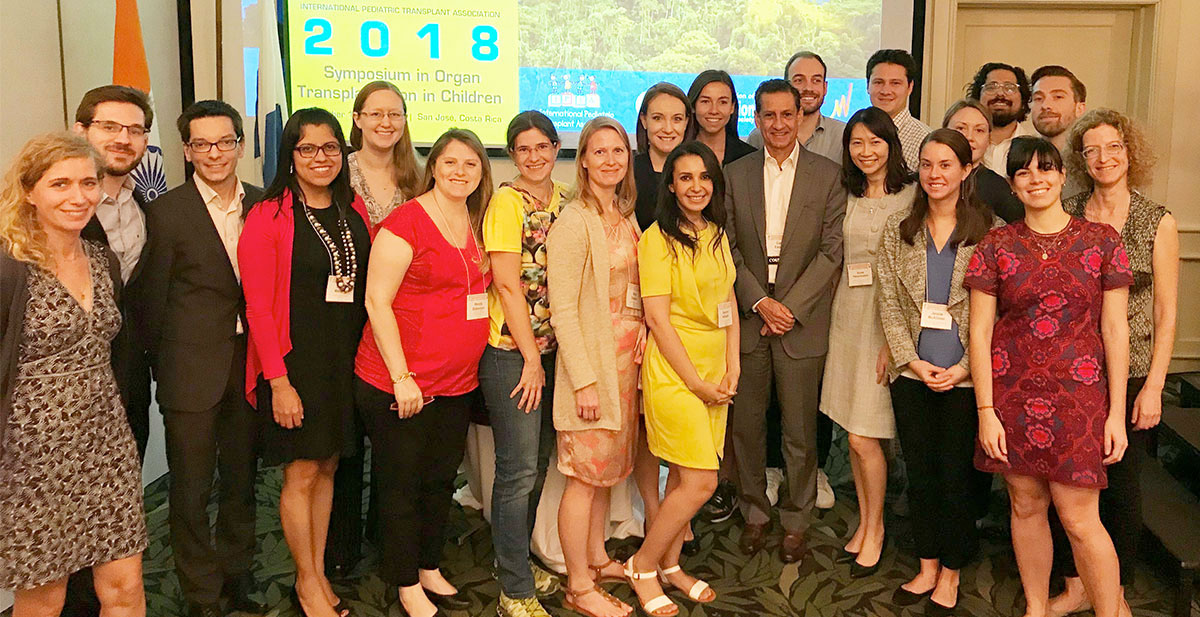 ---

Want to stay up to date on transplantation? Want to test your knowledge? Here's your chance!
The IPTA Question Bank is a new IPTA member benefit in which members will have access to new questions with each newsletter and access to additional questions and answers on the website. Each question will be accompanied by references to explain the correct and incorrect answers and it can be used as a teaching tool for students, residents and fellows as well.
Click HERE to procede.
---

Many of your members have been requesting information on how to access Pediatric Transplantation's electronic table of contents. Below are instructions on how to subscribe now!
Go to the Pediatric Transplantation homepage.
https://onlinelibrary.wiley.com/journal/13993046


Ensure that you're logged in with your IPTA access:



On the right side of the page, click on Get Content Alerts:



You're now subscribed! By default, you will receive an e-mail alert any time a new Pediatric Transplantation issue publishes as well as an alert any time new EarlyView (article published ahead of issue) content publishes. To change the frequency of EarlyView digest e-mails, click on the drop-down menu under Frequency and select



To unsubscribe, check the box next to Pediatric Transplantation and select Unsubscribe From Alerts.
---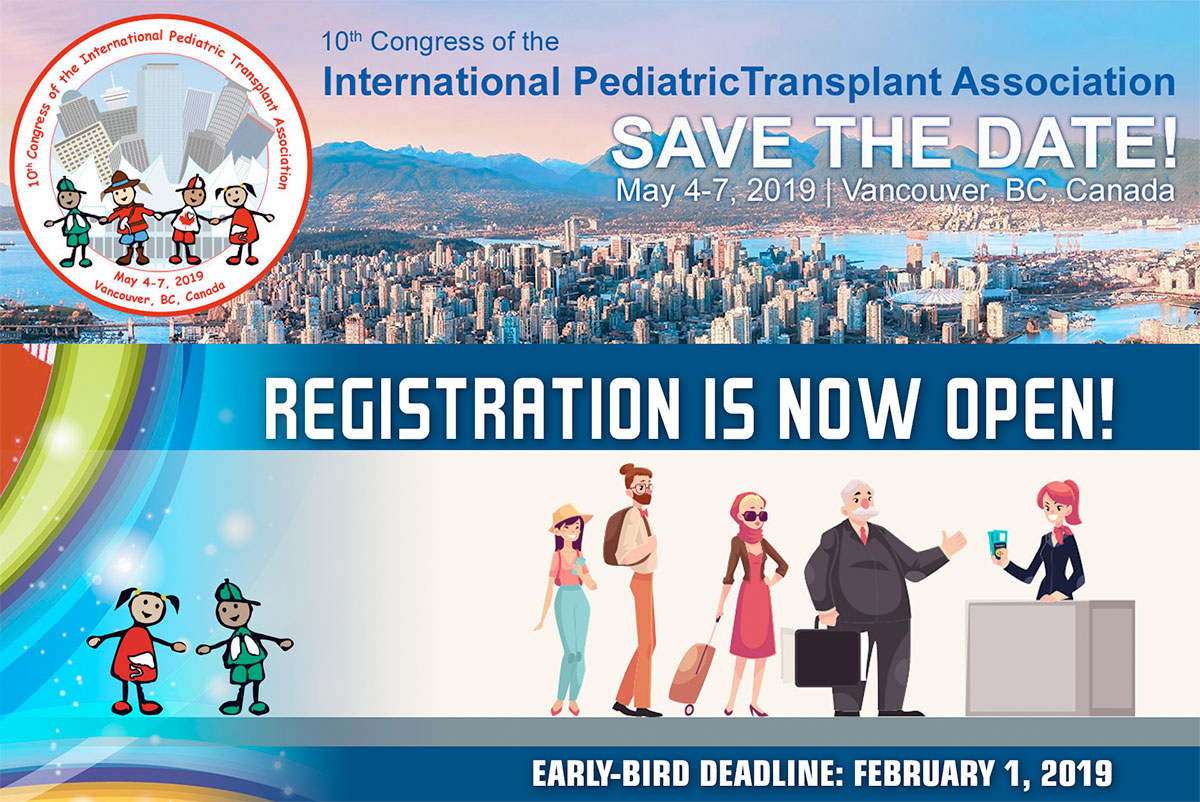 Registration fees are now posted on the website. You can go ahead and register for the main Congress, pre-meetings and social events.
Click HERE to register.
---

Newsletter Announcements – Open to the Membership
Would you like to include an event announcement in the newsletter? Some potential examples of this may include:
Event/meeting announcements
Job opportunities/postings
Requests for colleagues to join multi-center research collaborations
If you have any of these that you wish to include in the newsletter, please email to sondra.livingston@tts.org. Please note that in any announcement about events or job opportunities, no follow-up will be provided by IPTA – as such, full contact information for all of these events/opportunities should be included in the announcement. Please try to keep these relevant to the field of pediatric transplantation and pediatric organ failure.