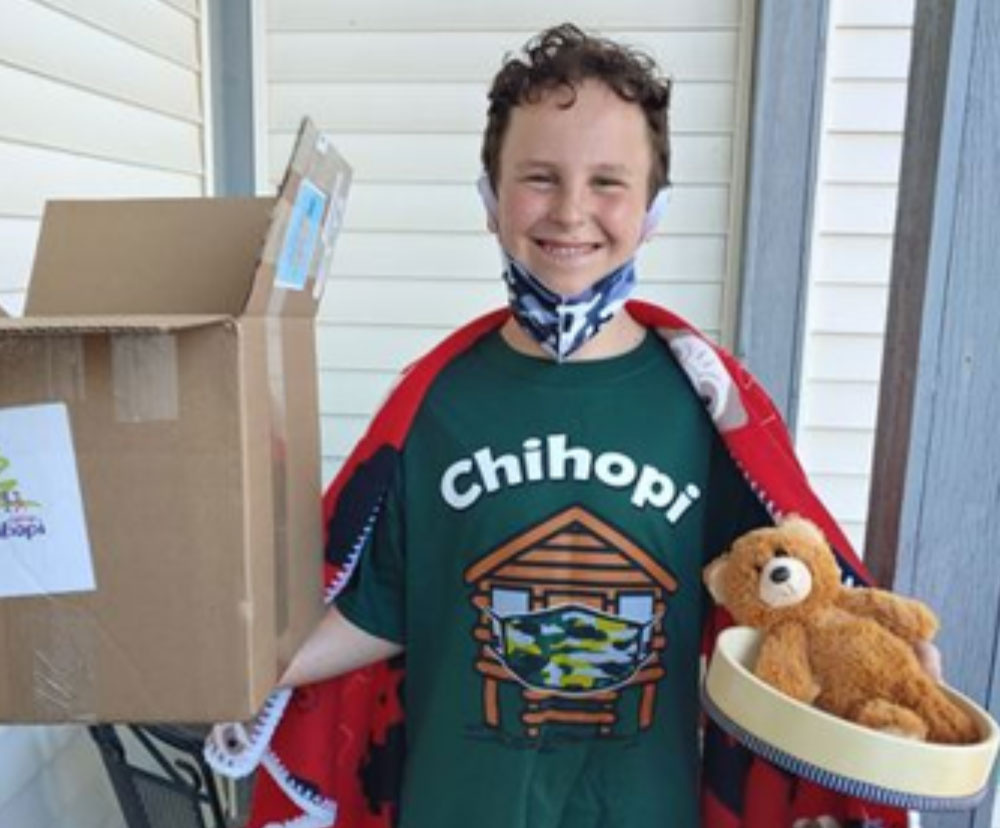 Virtual S'mores: Camp Chihopi in the Time of COVID
For many children, summer includes days at the pool, playing with friends, special vacations and maybe attending summer camp - a rite of passage for many. Being away from home, meeting new friends, and participating in activities leads to the development of new skills and greater independence. Some may think these experiences are unrealistic for children who are transplant recipients, but Camp Chihopi, created in 1995, has made that dream a reality. This annual event, through the Department of Transplant Surgery at UPMC Children's Hospital of Pittsburgh, provides a non-medical environment that encourages campers to engage with peers of similar medical experiences within the setting of a summer camp. Chihopi provides an invaluable experience for young transplant recipients to learn skills to increase independence, build relationships with peers, improve self-esteem, and enhance understanding of their health, while participating in typical summer camp activities.
The summer of 2020 was going to be like the previous 25 summers – fun events, new and sustained friendships, making memories and being active in a beautiful camp setting. Then life changed dramatically for all with the COVID pandemic. Now what?
Faced with cancellations in every type of social encounter, it became evident that the safest plan was to cancel Chihopi 2020. Although we were becoming accustomed to cancellations, social distancing, masks, and virtual programming for school, meetings, and gathering with friends, it was still heartbreaking to cancel Chihopi. We had been hopeful that late summer might bring some normalcy, but adhering to current safety guidelines would be challenging with a camp environment that includes cabins of up to 12 campers and staff, a shared dining room, and close contact during activities. Following meetings with the Heart Camp leaders at Children's Hospital, who were also planning a virtual camp, and internet research on other summer camps that were changing to a virtual platform, the Chihopi team began developing "V-CHOPI," a virtual way to celebrate our friendships, connections, fun activities, and the spirit of Chihopi. About half of the usual group, 42 campers and 20 staff, participated in the week-long event.
Campers were invited to attend a 5-day event with specific programming that would take a virtual twist on favorite activities. Sitting around a campfire together and making S'mores wasn't possible, but everyone could make their own campfires (cardboard paper towel rolls and colored tissue paper) and enjoy pre-made S'mores. Water sports weren't available, but "Floatie Friday" provided a challenge to present their unique version of a water activity – which could be swimming in the bathtub with flippers and a snorkel! The campers' creativity, imagination and enthusiasm were amazing! With current events in mind, the theme of camp was "Mask-erade." Each morning, campers received an email with instructions that included their thoughts about the question for the day, pictures to post related to the theme of the day, and preparation for activities. The week before camp, campers received the Chihopi Camp Cube by snail mail with supplies, a camp T-shirt, and other camp necessities. Two one-hour sessions, as recommended by national on-line camps, were scheduled and organized through Zoom. There were all-camp activities but campers were also divided into cabin groups for the afternoon session. Chihopi staff, including older transplant recipients and transplant team members, were also recruited and participated as session leaders.
V-Chihopi far exceeded our hopes for the event. We knew that campers would enjoy seeing each other, even virtually, and renewing friendships, but the strong connections, and the degree of openness and communication that occurred was unexpected. Each session had adult leadership from experienced camp staff and also one to two senior leaders to help facilitate discussions as needed. During activity sessions, campers would speak spontaneously about their medical experiences, peers, family and activities. One young camper remarked how his house "exploded" with alarms twice daily when it was time to take his medicine. This led to a long discussion about remembering to take medications and what strategies are used in their homes. In addition to taking meds, another theme was the bond they shared with other campers because of their transplant surgery. The campers discussed medical experiences from difficult times in the hospital to favorite nurses and tips in taking medicine that tasted "nasty." Listening to campers, and the staff who are transplant recipients, discuss shared experiences and the support they receive from each other validated this virtual experience. In some ways, the virtual format seemed to encourage more personal discussion. Campers also enjoyed getting to know each other better through the backdrop of the campers' homes. They could meet siblings, were introduced to pets (including a pot belly pig that could do tricks on demand!), saw stuffed animal collections and participated in a back-yard birthday party. Chihopi had an international perspective with our camp friends from the School of Nursing at Keio University in Tokyo who facilitated an origami session. The students and their instructor were active participants during camp week, despite the 13 hour time difference! "Ask the Transplant Team" was a fast hour of Q&A between the campers and team with insightful questions about transplant surgery to favorite ways to relax. Interestingly, the virtual format provided the ideal platform for this session, which had never been as successful at camp. With Zoom, the session became a more private interview and encouraged more discussion, positive exchange between campers and the team, and contributed to our understanding of each other because of our relationship through transplant.
This has been unforgettable summer in many ways. Although being together at Chihopi is what all the campers and staff hope for, it has become an opportunity to develop Chihopi as a virtual touchpoint throughout the year. Plans are being made for a holiday event, a planning session in the spring to engage the campers and staff for Chihopi 2021, and a virtual cabin orientation prior to camp. Rather than being only a place holder for "real" camp, V-Chopi strengthened the camp bond and is yet another experience the campers will have in common. Chihopi campers know that there are others with the same experiences and with whom they always have support and understanding. We learned that both virtual and real connections can be impactful.
Beverly Kosmach-Park
Director, Camp Chihopi